L:A Bruket
Body Lotion - No. 113 Body Lotion Coriander/Black Pepper
€14.70
€29.40 / 50 %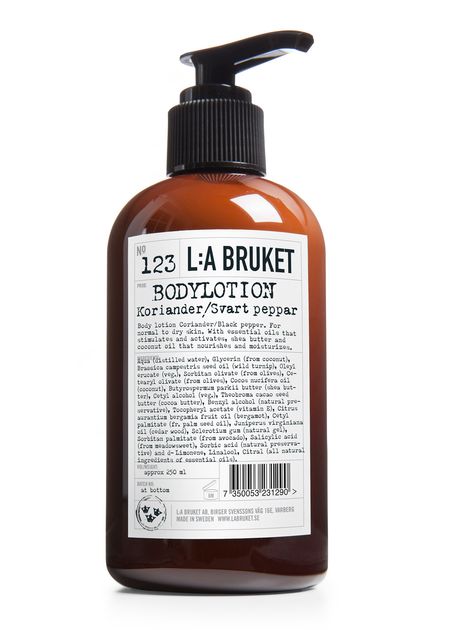 No. 113 Body Lotion Coriander/Black Pepper - Body Lotion from L:A Bruket
Delicious body lotion from the ecological and organic brand L: A Bruket from Sweden. The lotion is perfect for normal to dry skin, where the essential oils of bergamot and patchouli, softens, nourishes and has stimulant and astringent properties. Bergamot oil cooles and has a slight exfoliating effect, where patchouli leaf oil is soothing, purifying, astringent and healing. Coconut oil, cocoa butter and shea butter protects against harsh weather, moisturizing and has a soothing, healing effect on dry and irritated skin.

Really delicious body lotion that keeps its promises.
Scent: Bergamot / Patchouli
Size: 250 ml.
Produced locally in Sweden
Organic and ecological
In stock for fast delivery
See the ingredients under "Fit".
Is available in the following variant: Neutral (Brown) 250 ml.
Fast delivery
We offer gift wrapping