Normann Copenhagen
Jug - Krenit Jug
€32.14
€53.56 / 40 %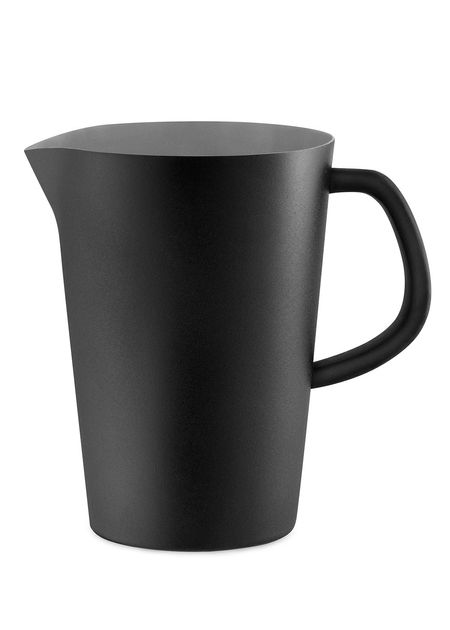 Krenit Jug - Jug from Normann Copenhagen
More than 50 years after the material scientist and civil engineer, Herbert Krenchel, designed the iconic Krenit bowl, the minimalist design classic was put into production again by Normann Copenhagen. The re-launch has been a resounding success and the colourful Krenit bowls are more popular now than ever before. Normann Copenhagen celebrates great design by expanding the series with the original Krenit jug.
The jug, which Herbert Krenchel designed in 1966, is a natural extension of the best-selling Krenit range of bowls and kitchen utensils. The characteristic sharp edge and matt exterior, in contrast with the shiny and colourful inside, gives the Krenit jug its distinctively recognisable design. No decoration and adornments, but a streamlined and well-balanced relationship between form and material - exactly like the Krenit bowl.
The Krenit jug was designed because Herbert Krenchel noticed a growing need for more streamlined looking products for serving and preparing food. Being the impassioned fireball that he was, he tirelessly worked on a jug that would live up to his own high standards for design and functionality.
"I've always been engrossed, almost in love with objects and materials of a high quality. As a counterpoint to the soft and curved forms of the time, I gave the Krenit jug a razor sharp feel, which is expressed by its refined lines. The stout handle, for example, is quite different to that you would usually see on a jug. The angle at the top of the handle is shorter than that of the lowest. This adds personality and gives the jug a good grip," said Herbert Krenchel in 2008.
The Krenchel family contacted Normann Copenhagen to ask if the design company would restart production of the Krenit bowl. Since then, it has been clear that the revolutionary bowl fits in modern homes just as well now as it did back then. Normann Copenhagen is excited to be able to offer design lovers another timeless design treasure with the re-launch of this jug.
Poul Madsen, CEO and co-founder of Normann Copenhagen explains: "The Krenit range is an excellent example of a design classic that is aesthetic, long lasting and functional. The Krenit jug consists of a minimalist design, with a pure and simple feel that has just as much significance today as when it was first designed. The jug was only produced for a short period of time and many people didn't even know that it existed. Therefore, we are particularly pleased to be able to give the jug the attention we believe it truly deserves. "
The Krenit jug is being launched in two sizes, with the same wide range of inviting colours as the bowls.
Is available in the following variants: 1 L. - White (Black, White, Multi), 1 L. - Grey (Black, Multi, Grey), 1 L. - Light Blue (Blue, Black, Multi) & 19 X 19 cm.
Fast delivery
We offer gift wrapping